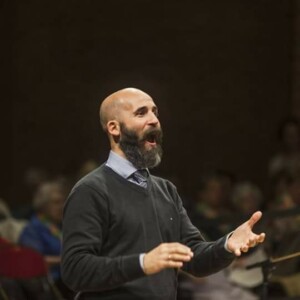 Born in Verona in 1977, passionate about music, Stefano Poletto studied oboe at the Verona Conservatory and graduated a few years later. His instrumentalist career quickly led him to perfect himself with the first oboe of La Scala in Milan and to perform in important orchestras such as the International Orchestra of Italy, the Italian Philharmonic Orchestra, the Theater Experimental of Spoleto, the "Offerta Musicale" of Venice …
Arriving in Belgium about 15 years ago, he studied with Paul Dombrecht, F. Leleux, J. Thys, D. Walter, N. Black, E. Speller, and played in the Flemish Radio Orchestra (VRO ), the Orchester de la Monnaie Orchestra. He formed the Ensemble Priamide, the Calamos Trio and officies as oboe teacher in the academies of Montigny-le-Tilleul, Gosselies and Charleroi.
Attracted by the beauty of choral singing, he studied direction with Mario Lanaro, Diego Dini Ciacci, Julius Kalmar and recently with Denis Menier. He has been working on La Monnaie's "A Bridge Between Two Worlds" project since 2007, where he conducts choral workshops for people who are socially vulnerable both in institutions, at "La Monnaie" and in prisons. He conducts the Melting Vox vocal ensemble, Les Baladins de Fleurus, the choir "Accroche chœur" and teaches the richness of sound in choral singing in private. Since  October 2014 he leads the "ensemble vocale Ishango de Namur".